Notes
Please be aware that several of the area municipalities are doing some extra 'education' stops regarding stop signs and stop lights, as well as monitoring groups for abuse of the 2 abreast behaviors. Let us not be the poster child for bad behavior.
Weather
The ride is expected to be: ON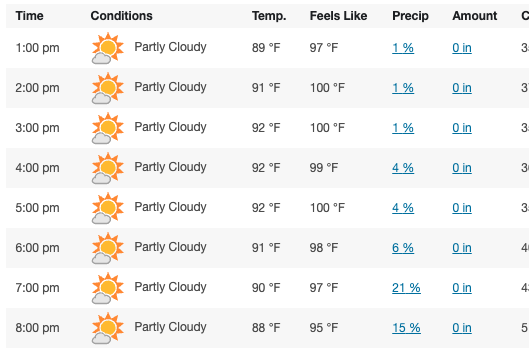 The weather looks to be dry, but absolutely scorching hot for bodies that have not had a chance to acclimate to the heat. Everyone needs to come prepared. Bring water, and some sort of electrolyte additive is strongly encouraged. In addition, because of the expected heat, the speeds should be down a little from normal.
Plea
This is an entirely volunteer ride, from organizing to group leads. We truly appreciate that this ride has become so popular and such a staple for so many riders. However, week in and week out, it is the same core group of volunteers leading rides, often sacrificing their own goals for an evening to make the group better.

This is our plea to everyone. Please consider leading a group, perhaps a group below your ability level once a month in order to allow the other volunteers chances to 'ride up' or even 'just sit in' some evenings. This will help prevent burnout, as well as allow this ride to continue to grow and remain the vibrant community that it has become.
About
An 18 mile Weekly Group Ride from the Gate City Brewing location at Canton St and Magnolia St in Roswell, GA.
The route is flat by North Atlanta standards. https://ridewithgps.com/routes/28785769
Year round, an early 'shenanigans' loop at 5:15 PM and a later Recovery loop at 6:45 PM, with a reconvene at Gate City Brewing afterwards for drinks, and camaraderie as well as the occasional empanada from Ceviche.

The rules are simple:
ride safe
be respectful
harass another rider in the group and you WILL be dismissed and potentially publicly shamed